Singapore Implements Further Property Cooling Measures Amidst Rising Prices And Resilient Demand
The Singapore government has introduced further tightening measures to cool the residential property market amidst rising private home prices and resilient housing demand. In its latest measures, the government raised the Additional Buyer's Stamp Duty (ABSD) rates, taking aim at investment demand for property, particularly among foreign buyers. This is the fourth time that the ABSD rates have been raised since the measure was first introduced in December 2011. The ABSD rates was last revised upwards in December 2021, after being raised in July 2018 and January 2013.
The latest revision dealt a sharp increase in ABSD rates for foreigners and entities/trustees buying any residential property in Singapore, rising to 60% and 65% respectively (see summary table). Meanwhile, Singaporean citizens purchasing a second residential property will see a more marginal increase in ASBD rate from 17% to 20%. Singaporeans buying their first home will continue to pay no ABSD, while the ABSD rate for Singapore Permanent Residents making their first residential property purchase stays at 5%.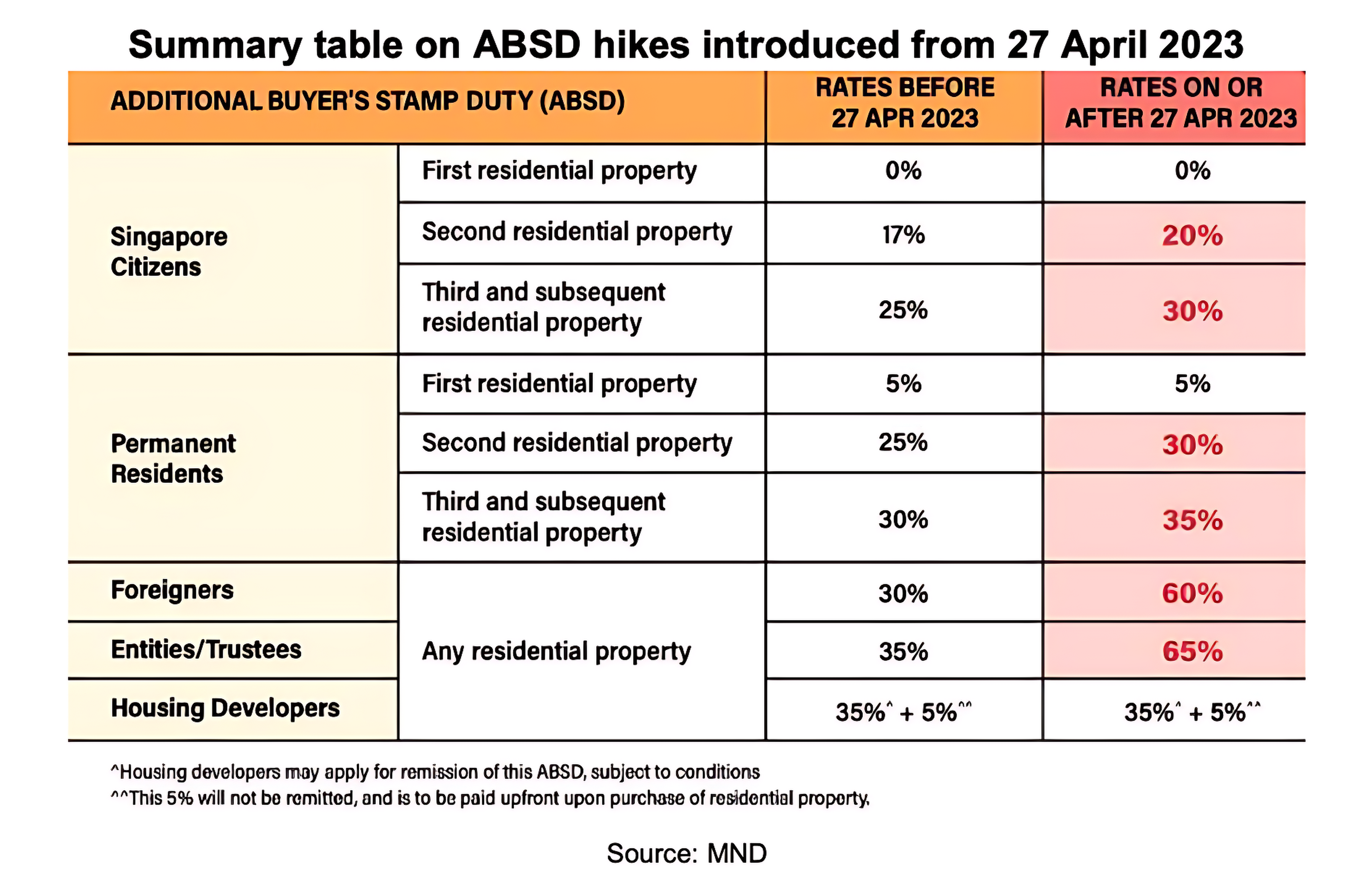 Ismail Gafoor, CEO of PropNex Realty:
The tightening of property measures indicates the government's resolve to ensuring a more sustainable private housing market by cooling investment demand, as well as to protect the interest of Singaporeans and Singapore PRs who are buying their first home – in a bid to make sure that home prices remain affordable to this group of buyers and not be driven up excessively by investment or speculative buying.
The impact of the latest measures will not be evenly felt, with foreign buyers in particular taking a bigger hit. With what we think is a very restrictive 60% ABSD rate (see table 1 for additional tax payable), many foreign buyers will likely reassess their options. That being said, foreigners only account for a small proportion of private home sales in Singapore, making up 4.4% of private home sales (ex. EC) in 2022, substantially lower than the numbers seen in 2010/2011 (see table 2). As Singaporeans and PRs still account for a lion's share of private home sales – at 95% in 2022 – we do not expect the doubling of ABSD rate for foreigners to severely impact the overall market.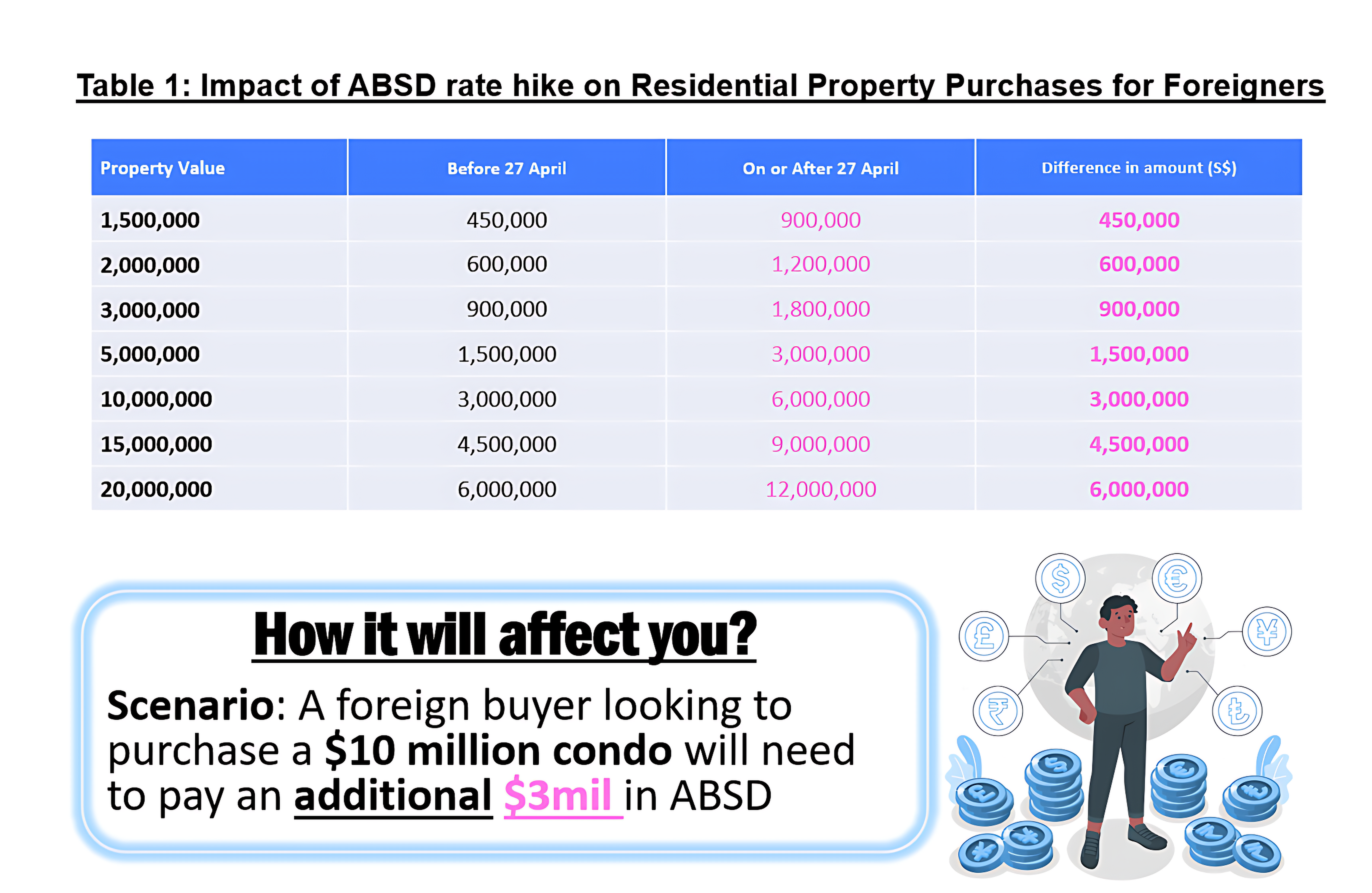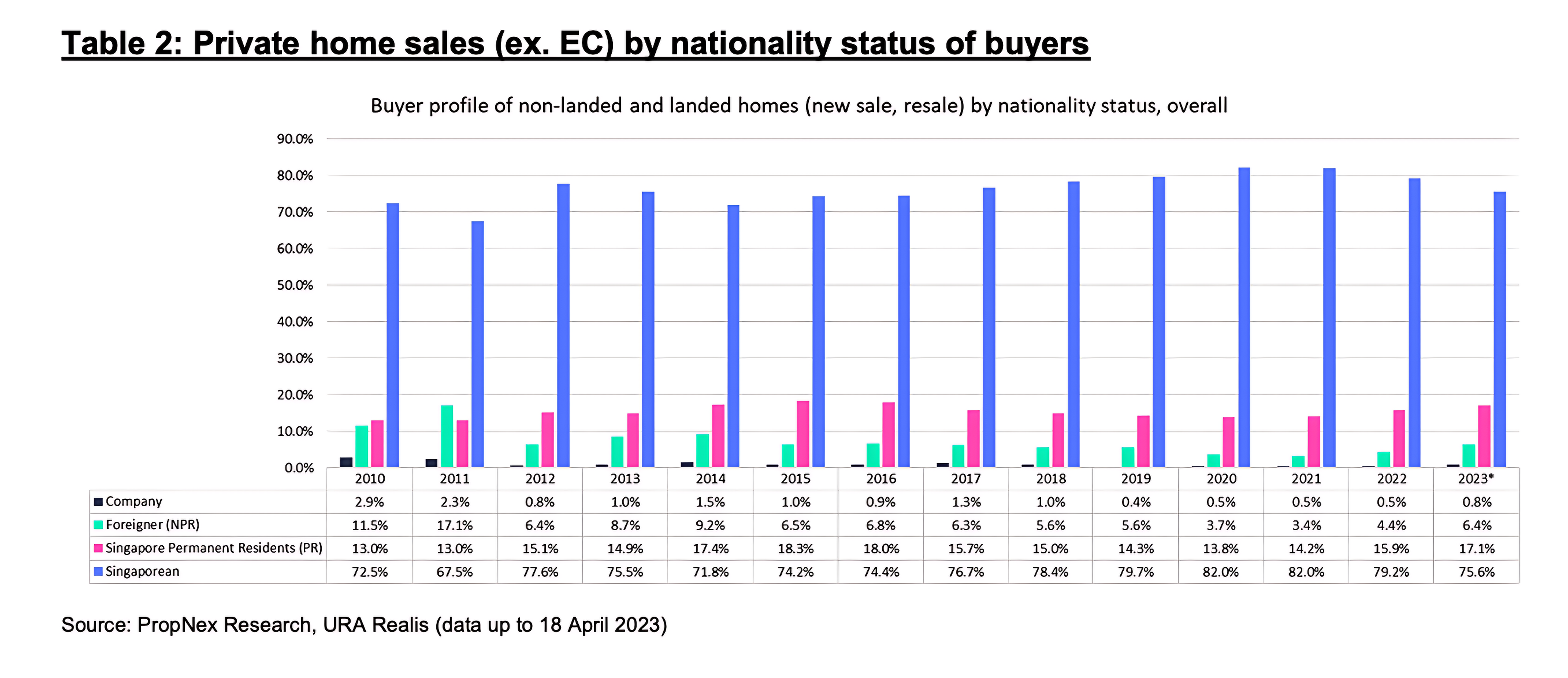 Even by sub-markets, the vast majority of homes have been purchased by locals and PRs. Looking at URA Realis caveat data by Regions, foreigners accounted for 11.4% of private homes sold in the Core Central Region (CCR) in 2022, while that of the Rest of Central Region (RCR) and Outside Central Region (OCR) amounted to 4.2% and 1.5% respectively.
Where we think could see some slowdown would be in the sales of super-luxe homes, which tend to interest foreign buyers, who may now take some time to consider the impact of the ABSD rate hike. However, even for big-ticket home purchases of over $10 million, Singaporeans and PRs account for a large share of such transactions. In the year to April 18 period, 64% of private homes sold for at least $10 million were purchased by Singaporeans, 17% by PRs, 14% by foreigners and about 5% by companies (see table 3).
For Singaporeans buying a second residential property, the ABSD rate has been raised from 17% to 20%, and for PRs from 25% to 30%. This will likely cool sentiment for investment properties but we think the impact on sales could be measured, as many property purchasers today are first-timer buyers, including those who have decoupled and buying a property separately. Furthermore, for some Singaporean buyers, the additional 3%-point increase may not be too onerous (see table 4). We anticipate housing demand from Singaporeans and PRs to remain fairly intact and are still expecting healthy take-up rate for the upcoming project, Blossoms by the Park in one-north which will be launched over the weekend.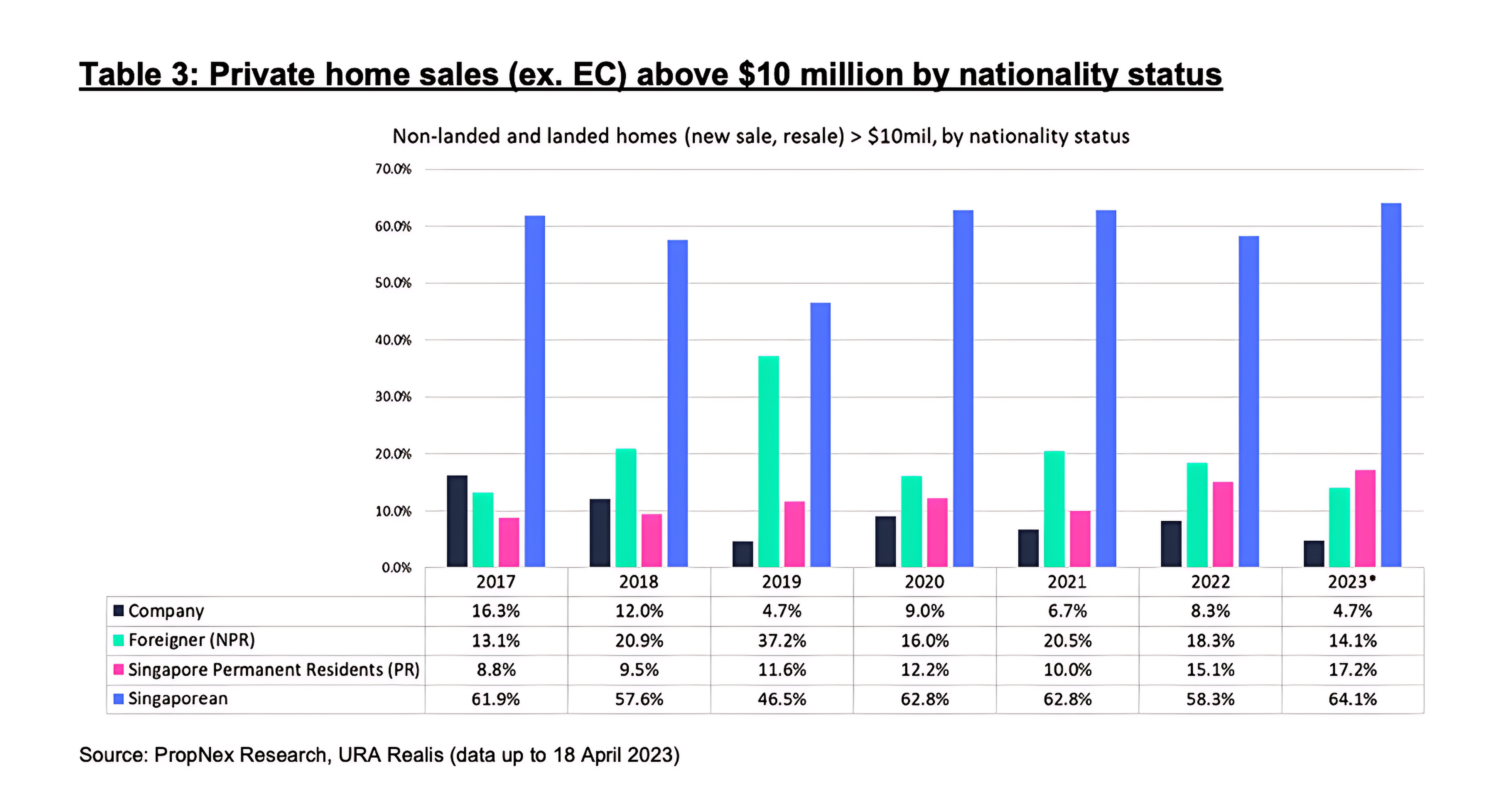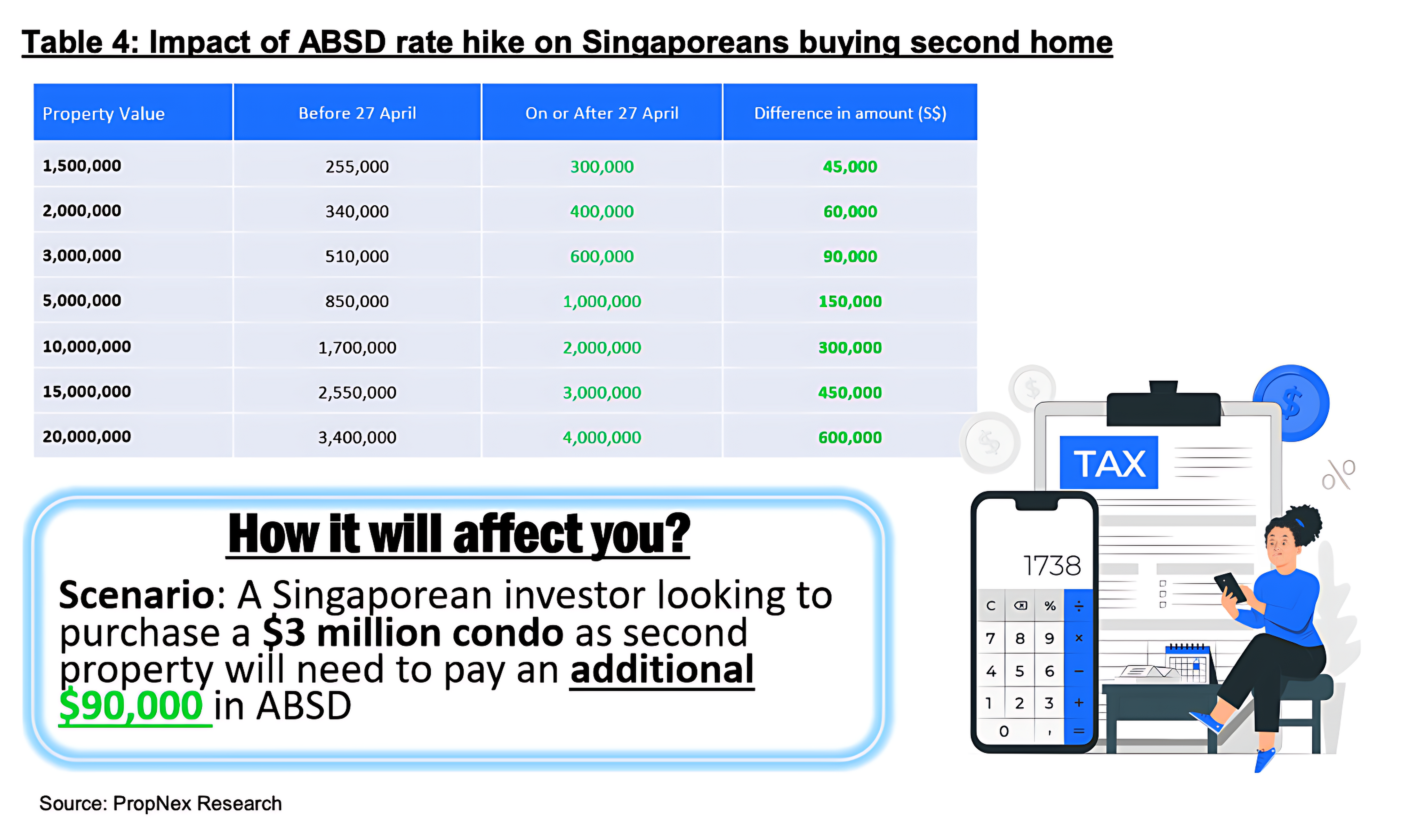 Given that locals and PRs dominate home sales, we expect new launches to proceed as scheduled and developers will price units sensitively, taking into consideration their cost burdens and prevailing market conditions.
With the latest round of cooling measures, the government is moving early to rein in any exuberance that may be building up in the residential property market, seeing that overall private home prices rose by 3.2% QOQ in Q1 2023, as per the URA property price index flash estimates. We note that the HDB resale market is showing signs of slowing price growth; to this end, ensuring that private home prices do not race ahead will prevent prices in both segments from diverging too greatly, ensuring that private homes remain within reach of HDB upgraders and first-time buyers.
In view of the further tightening of measures on the residential property market, we expect foreign investors to shift their focus to evaluate opportunities in the commercial property and shophouse property segments.
END